THE RCTS
The Science, Technology and Society Network (RCTS) is the digital infrastructure of Connectivity and Computing, directed to the Research and Education community. With it we ensure Communication, Collaboration and the development of new Scientific Knowledge.
Through RCTS, we provide national education and research institutions with a set of advanced digital services that allow them not only to develop national projects, but also to integrate or access international research projects and resources.
Who is it intended for?
They can join the RCTS:
Higher Education Institutions
State Laboratories
Associated Laboratories
R&D Units
Other units of the National Science and Technology System
Consult the RCTS (AUP) regulation, discover the RCTS Map and see who are the RCTS Connected Entities.
---
RCTS Fiber Map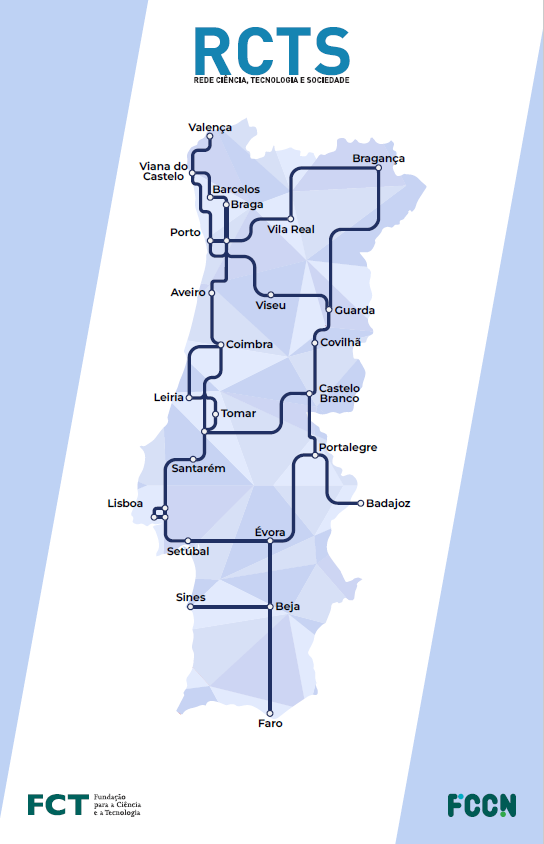 Click on the image to open the Science, Technology and Society Network Map, RCTS, (493k, PDF), with the 24 cities connected: Valença, Viana do Castelo, Barcelos, Braga, Bragança, Vila Real, Porto, Aveiro, Viseu, Guarda, Covilhã, Coimbra, Leiria, Tomar, Castelo Branco, Portalegre, Santarém, Lisboa, Setúbal, Évora, Beja, Sines and Faro.
How to join?
If you want to know if your entity/institution can be part of our community, fill out the pre-membership form.
We will give you an answer as soon as possible.